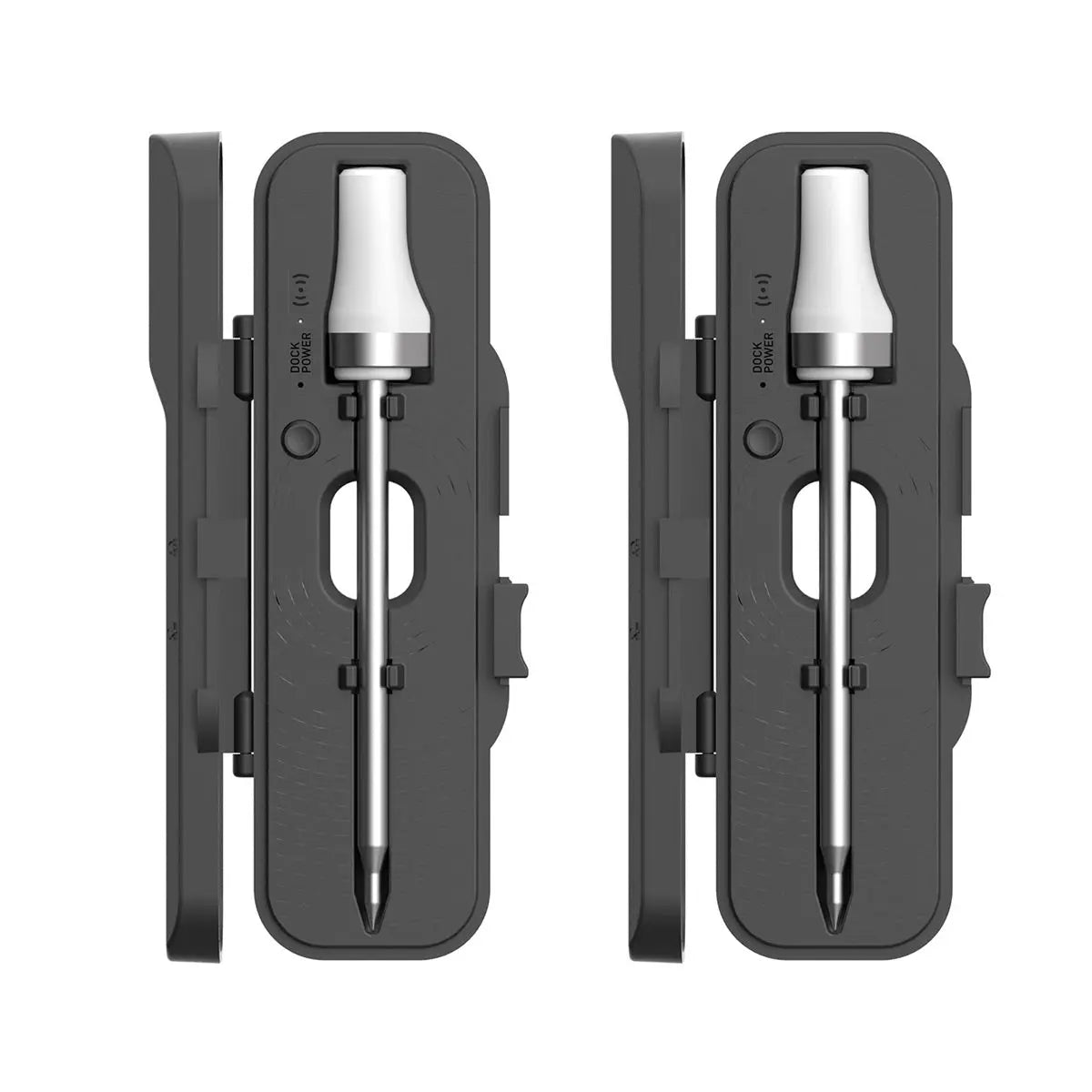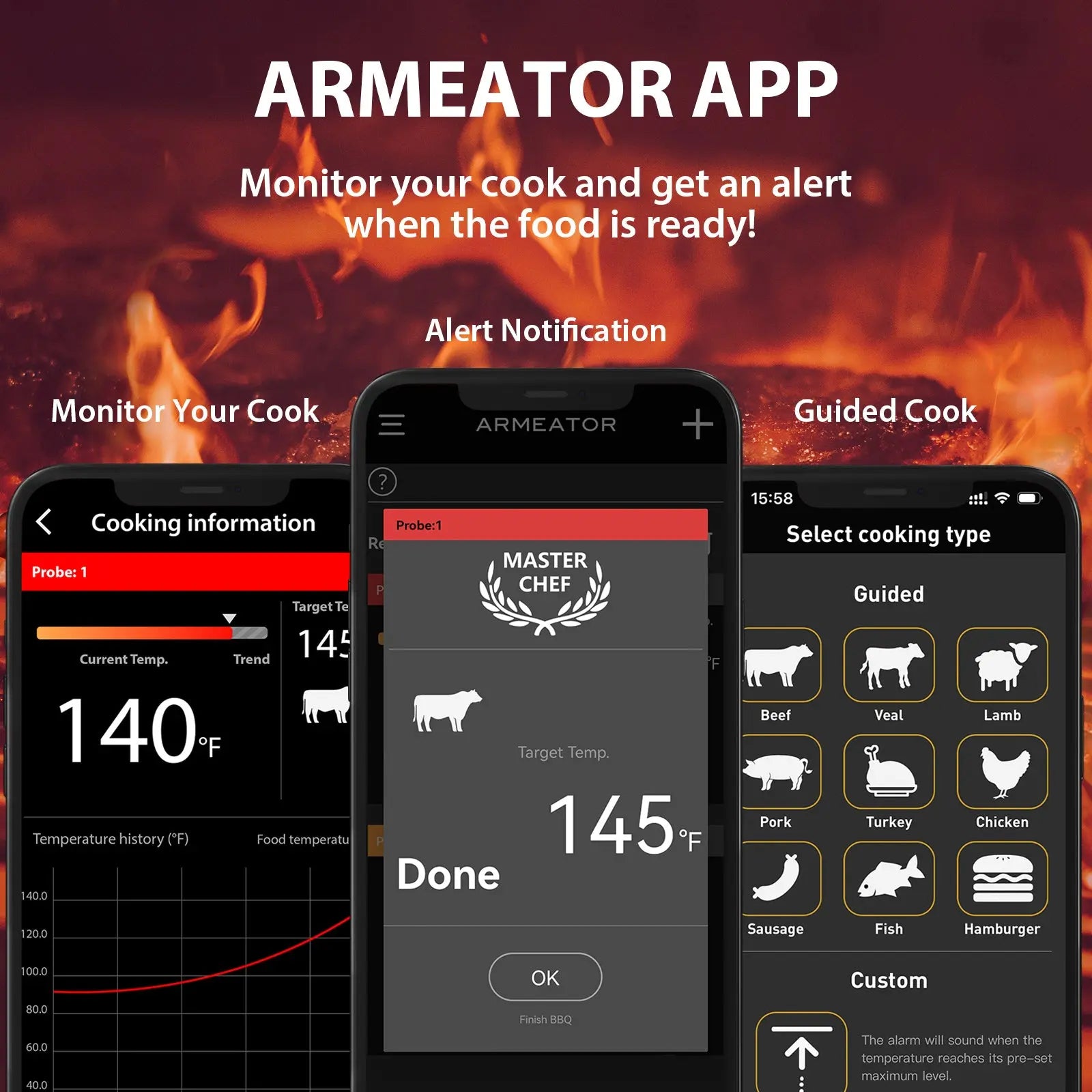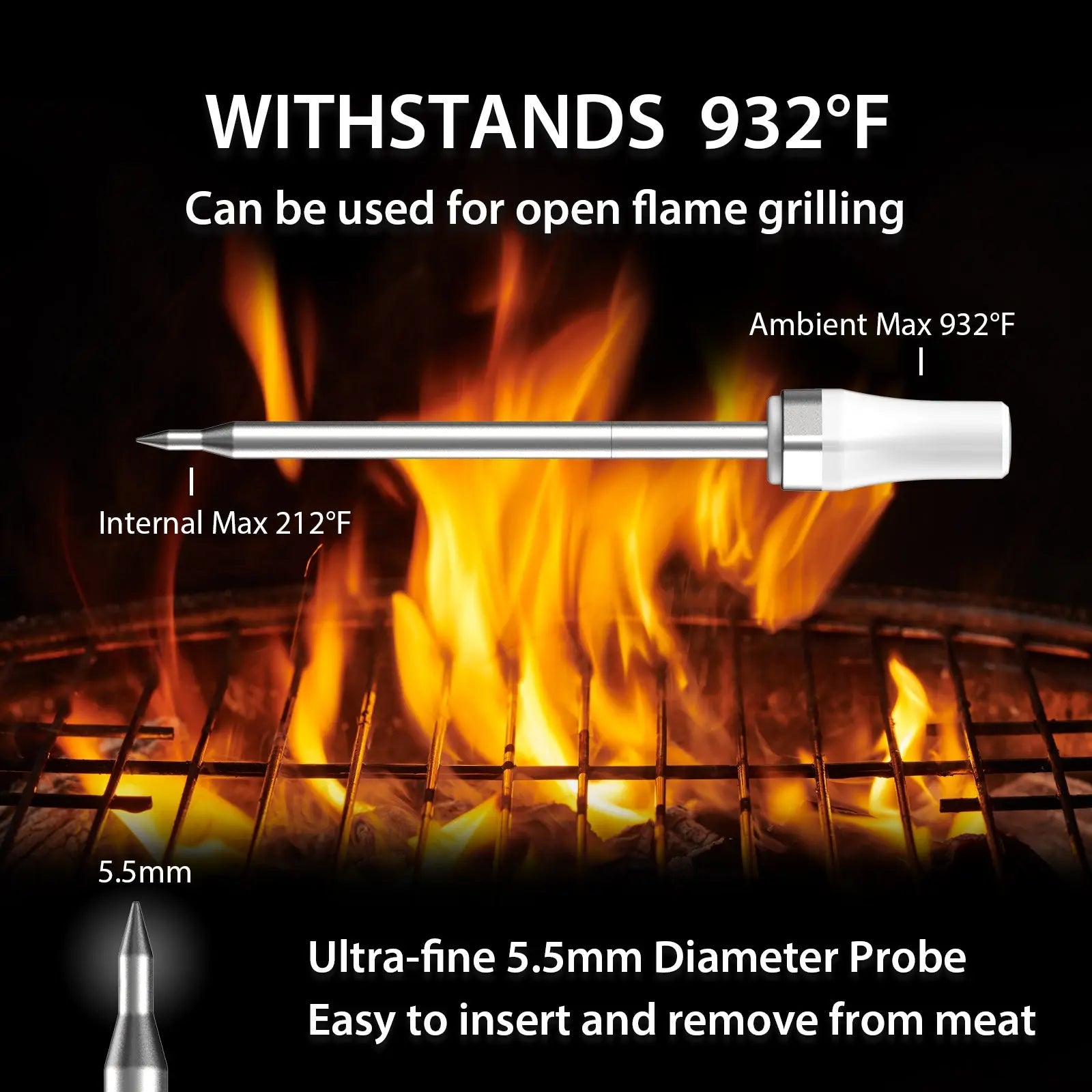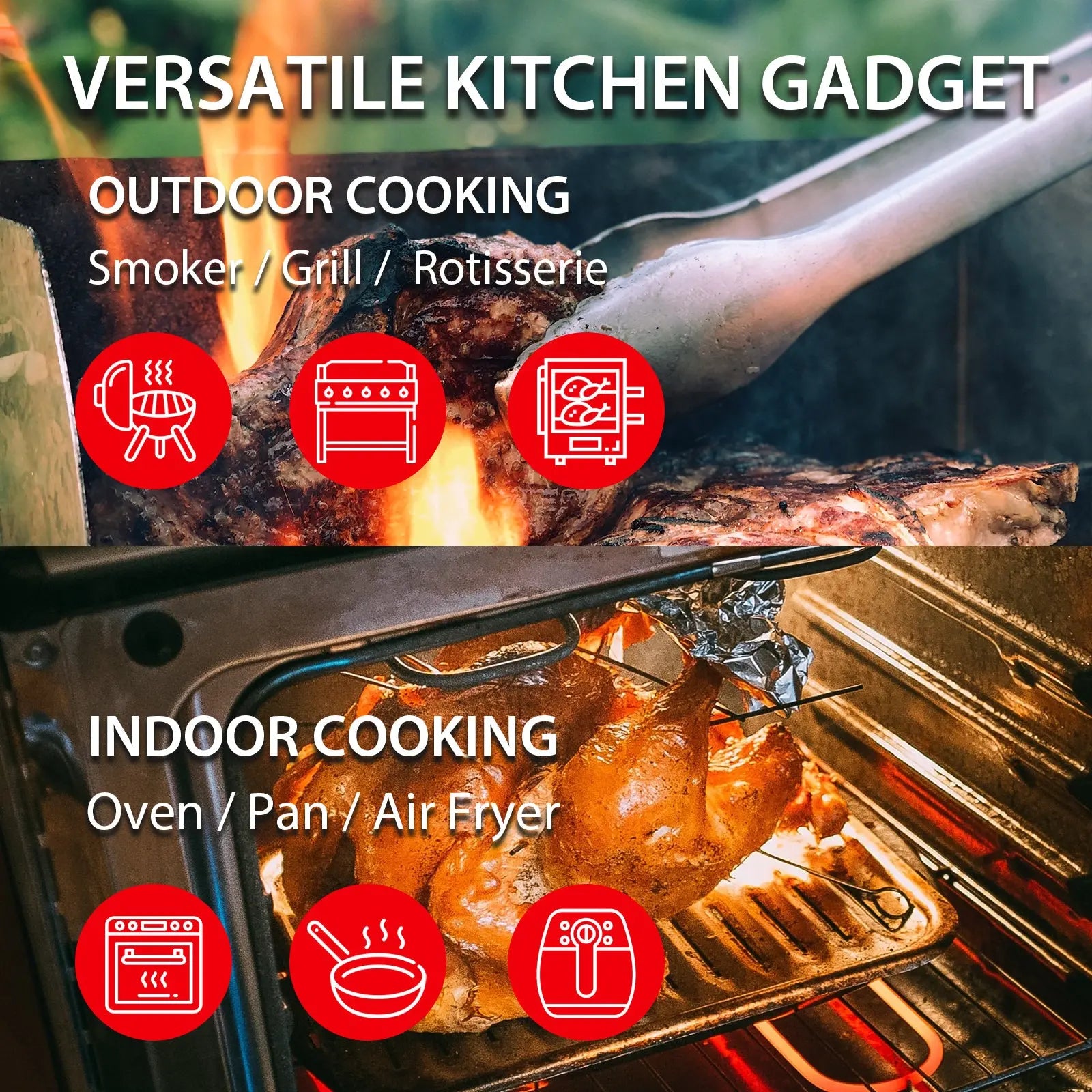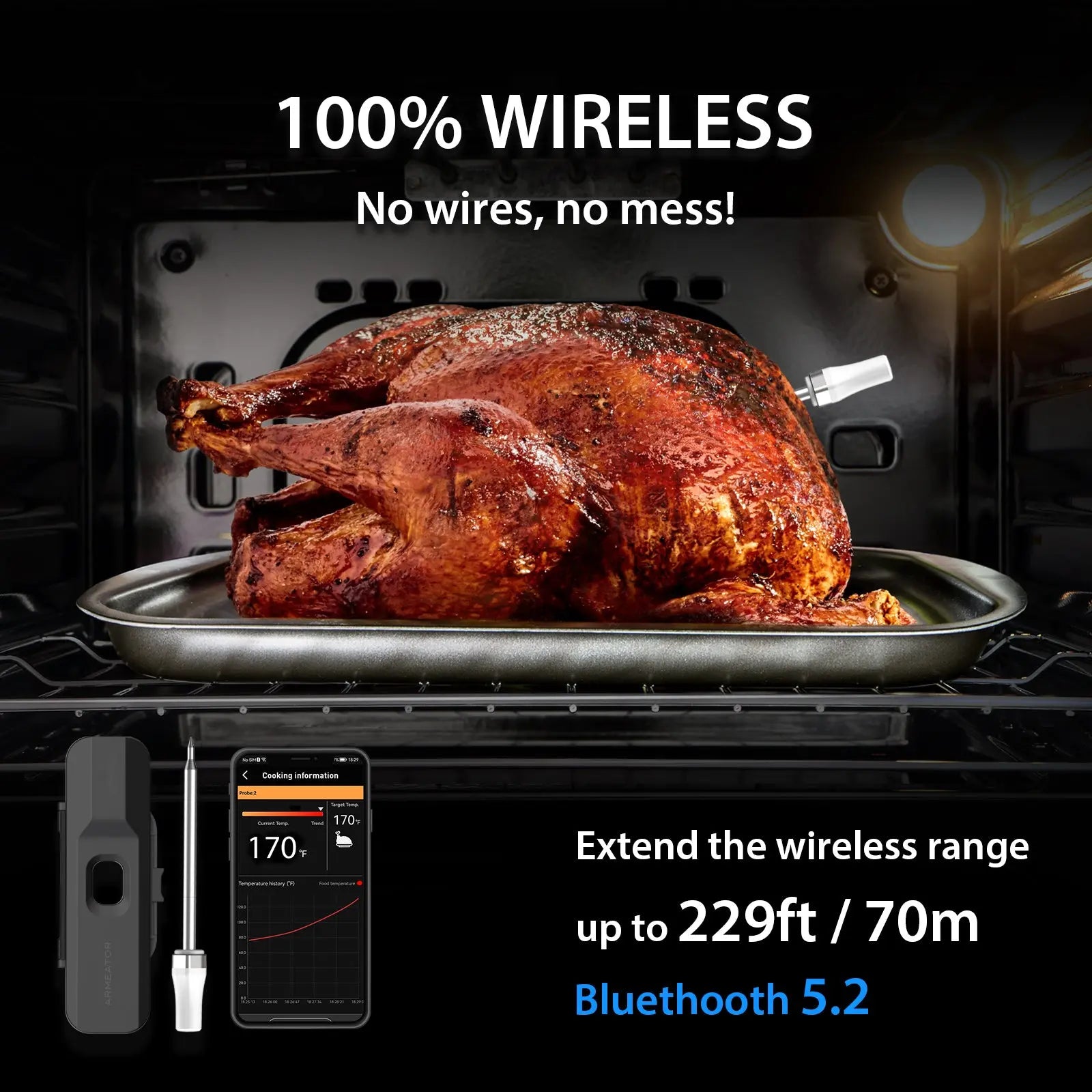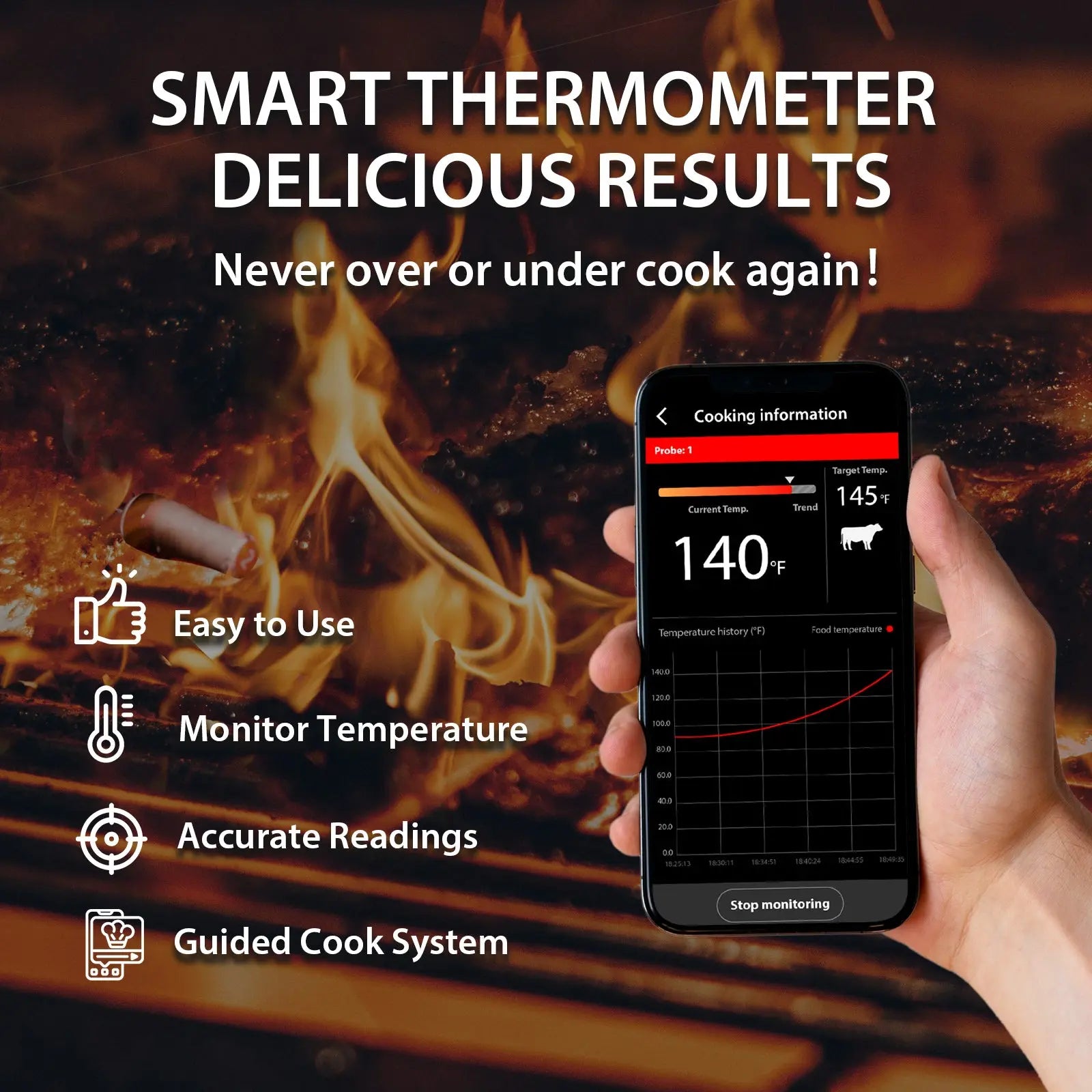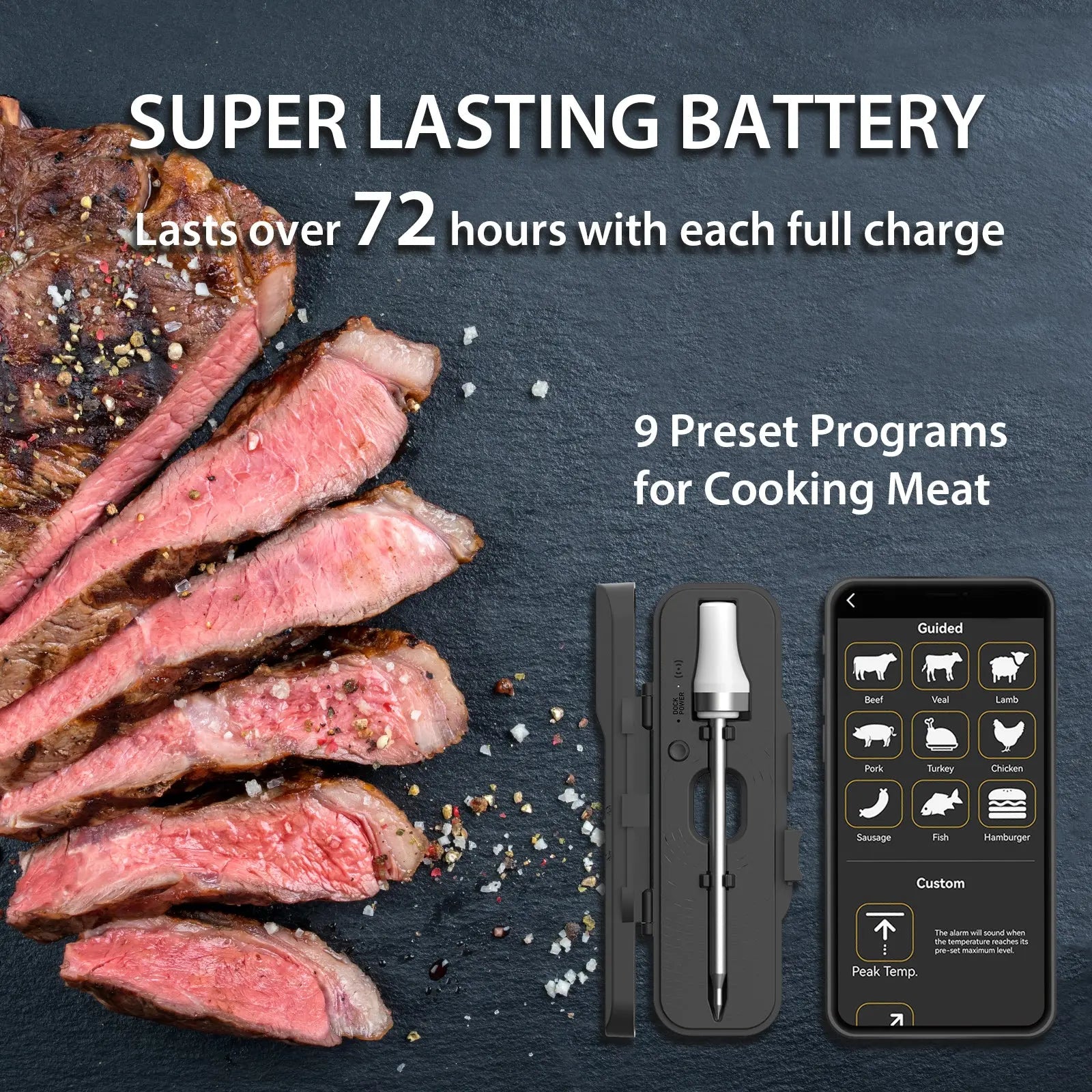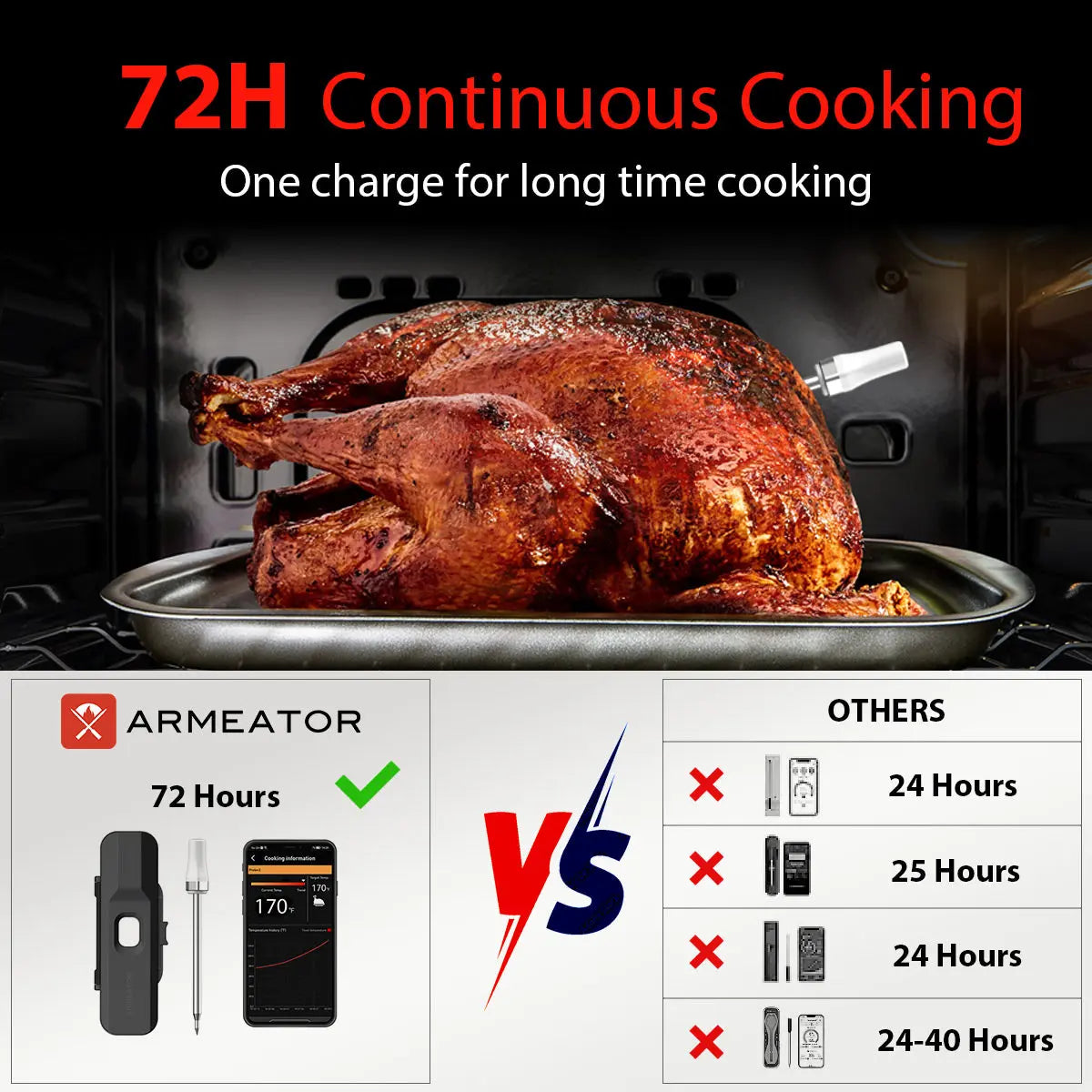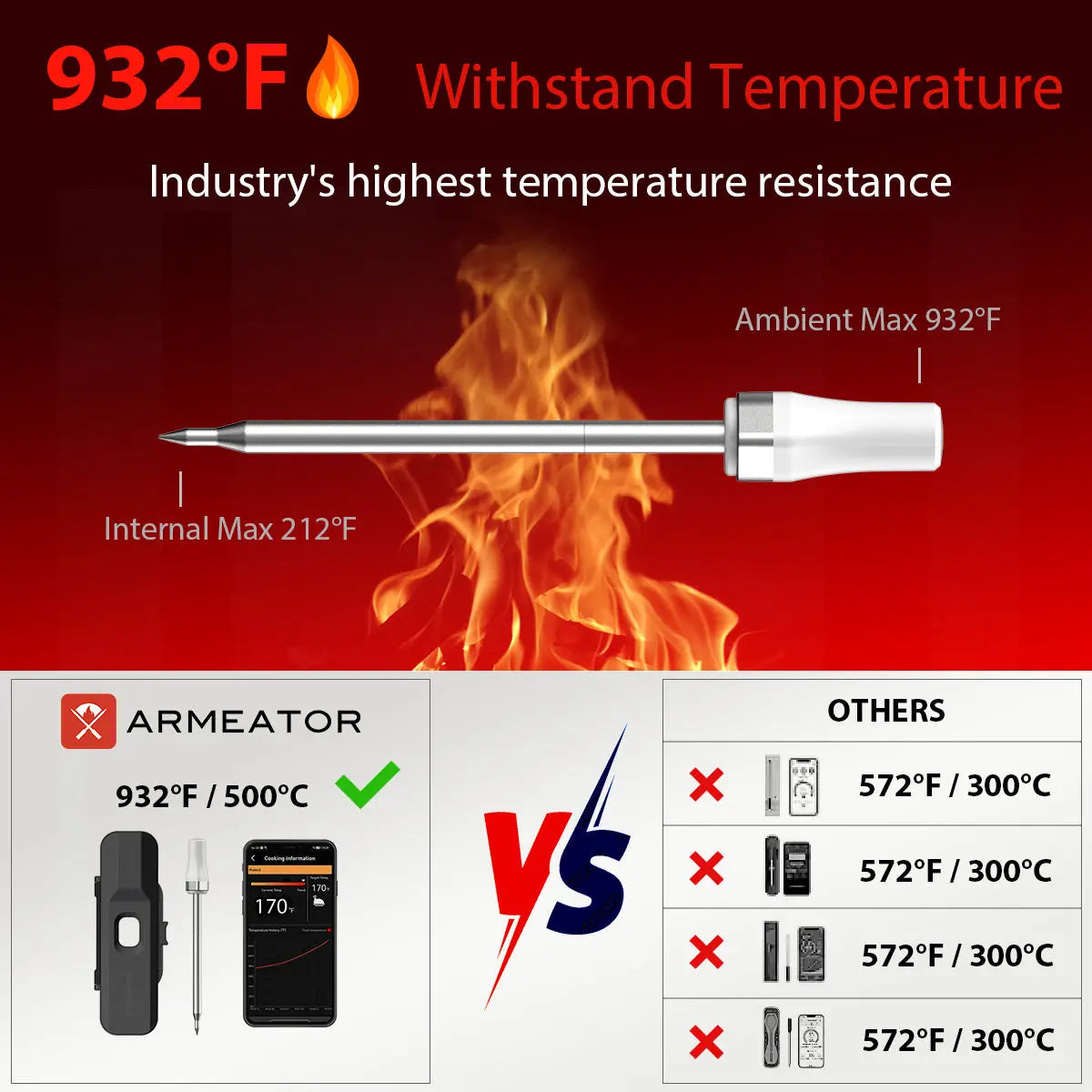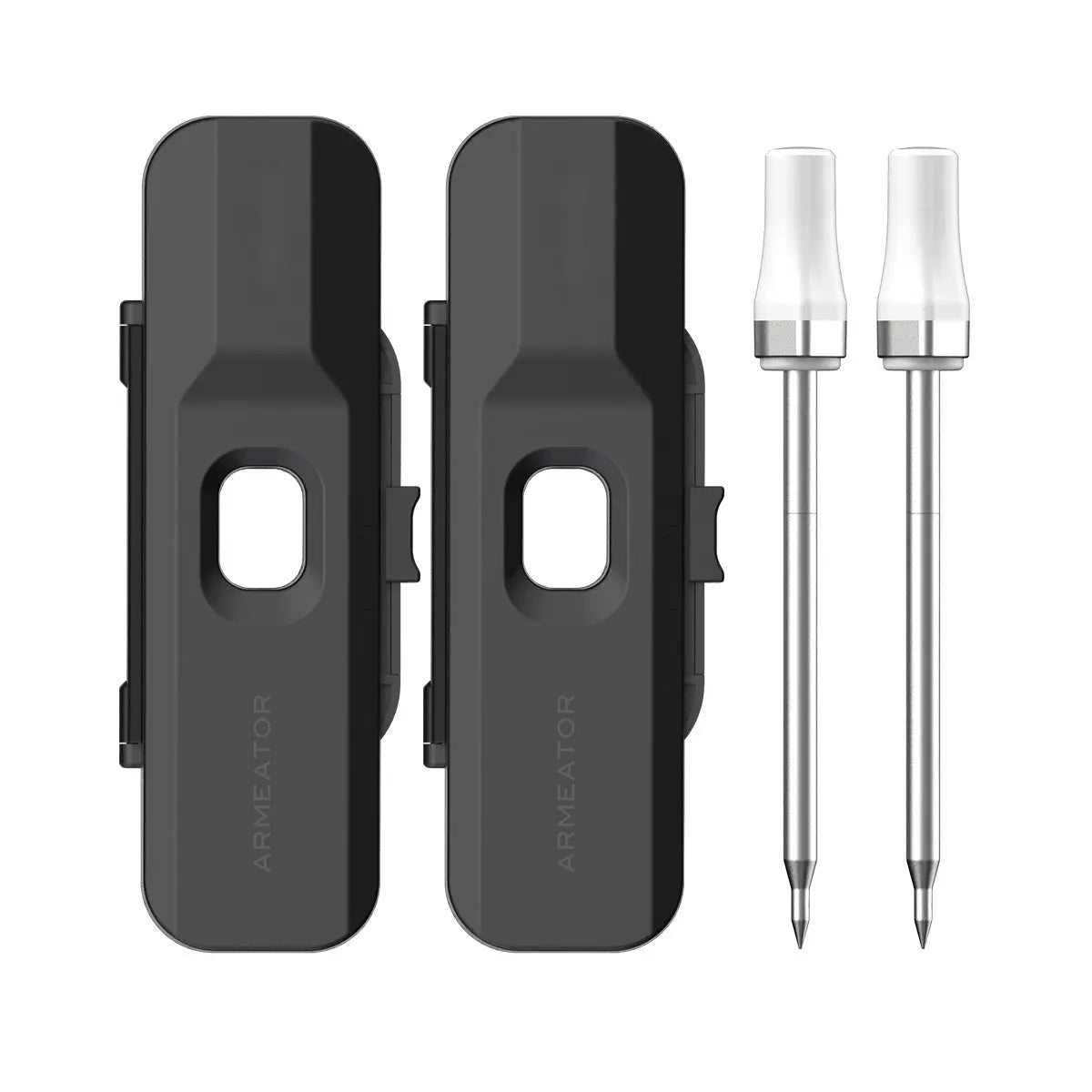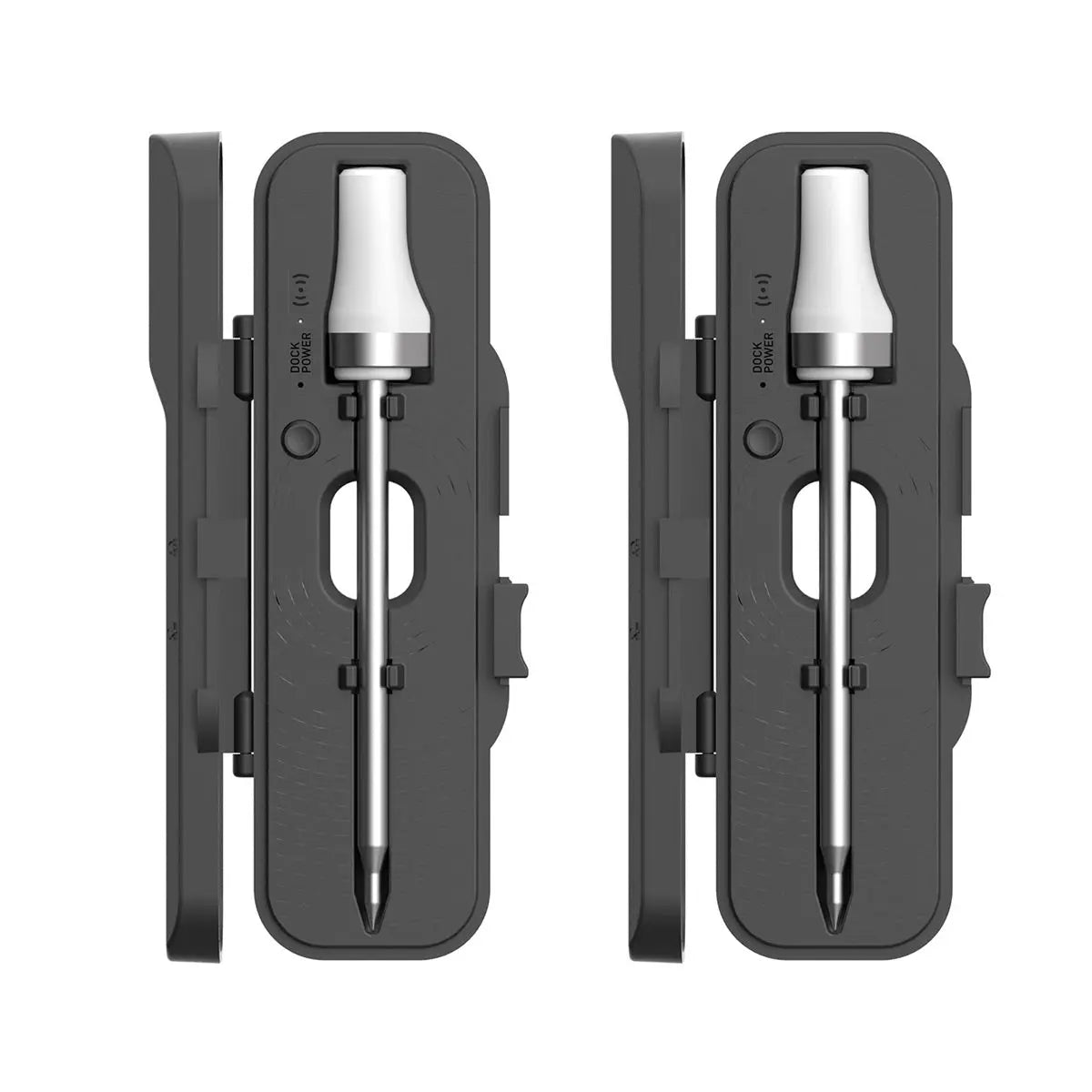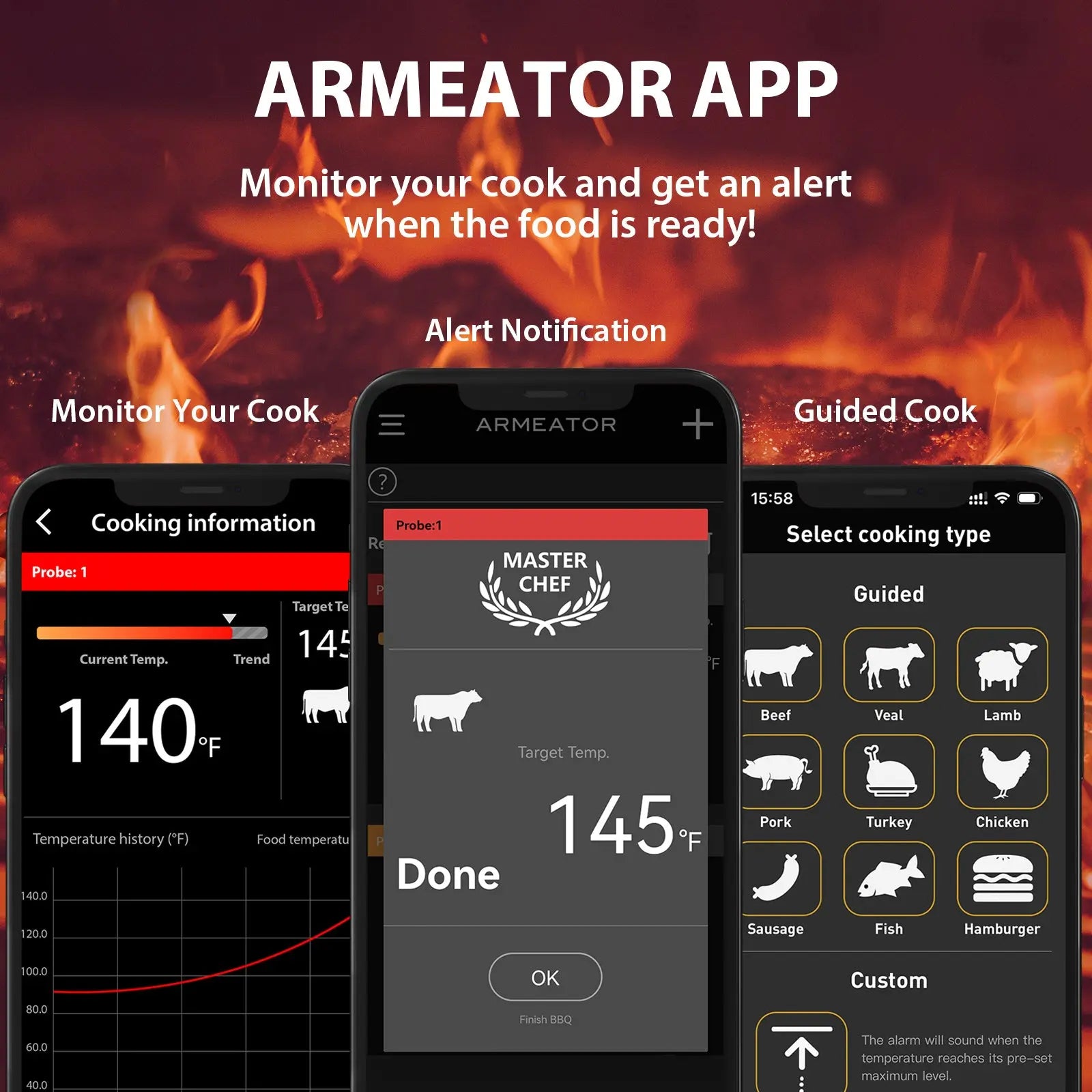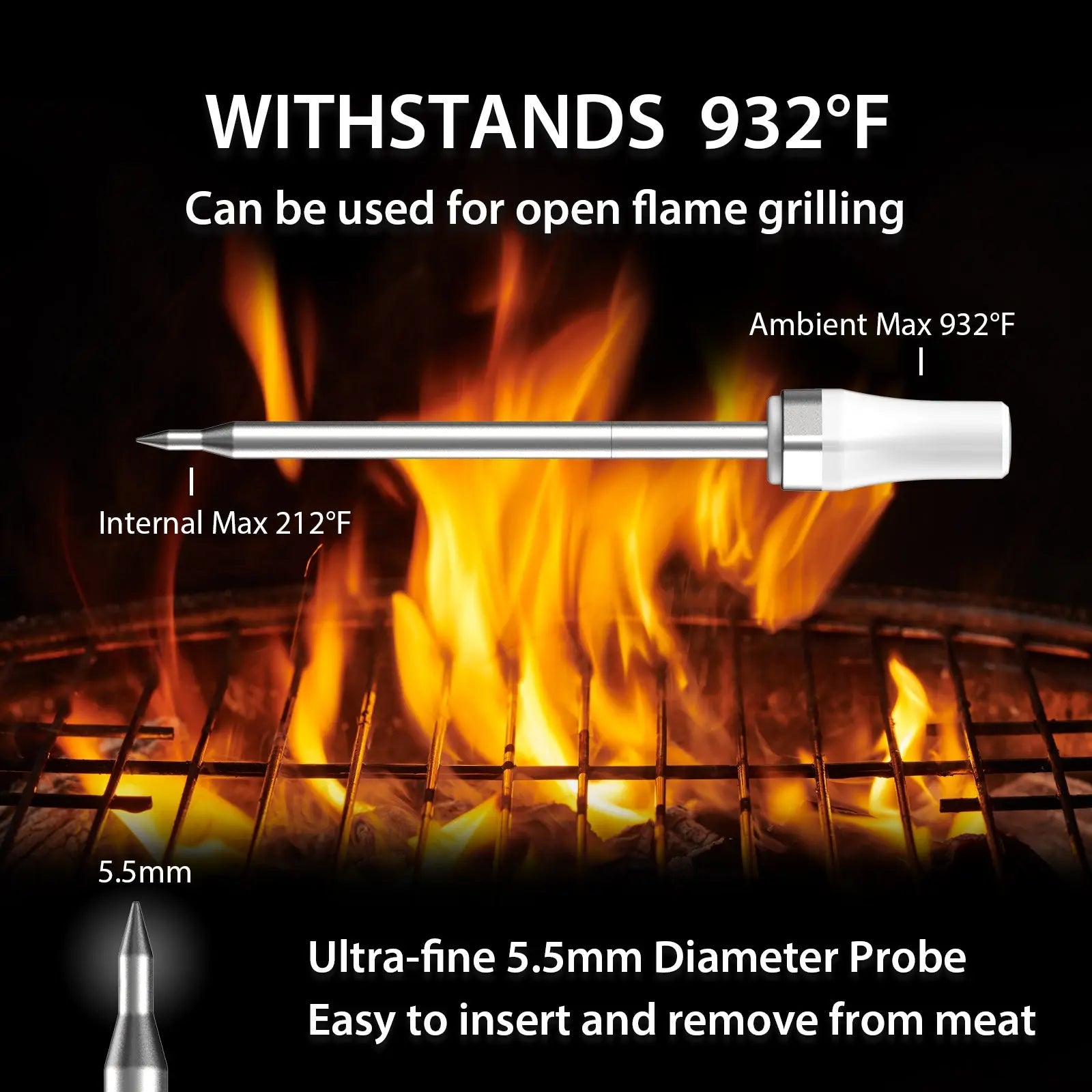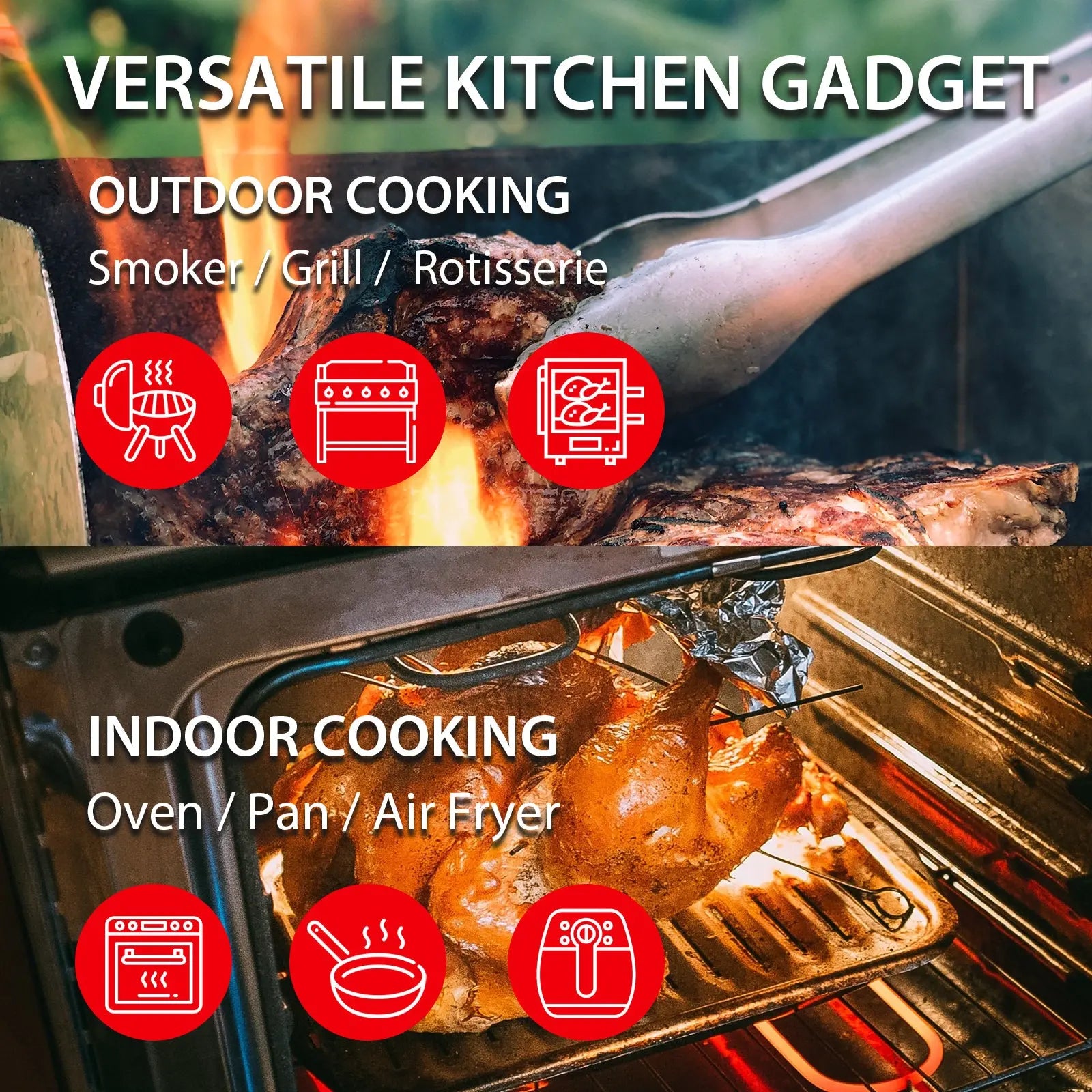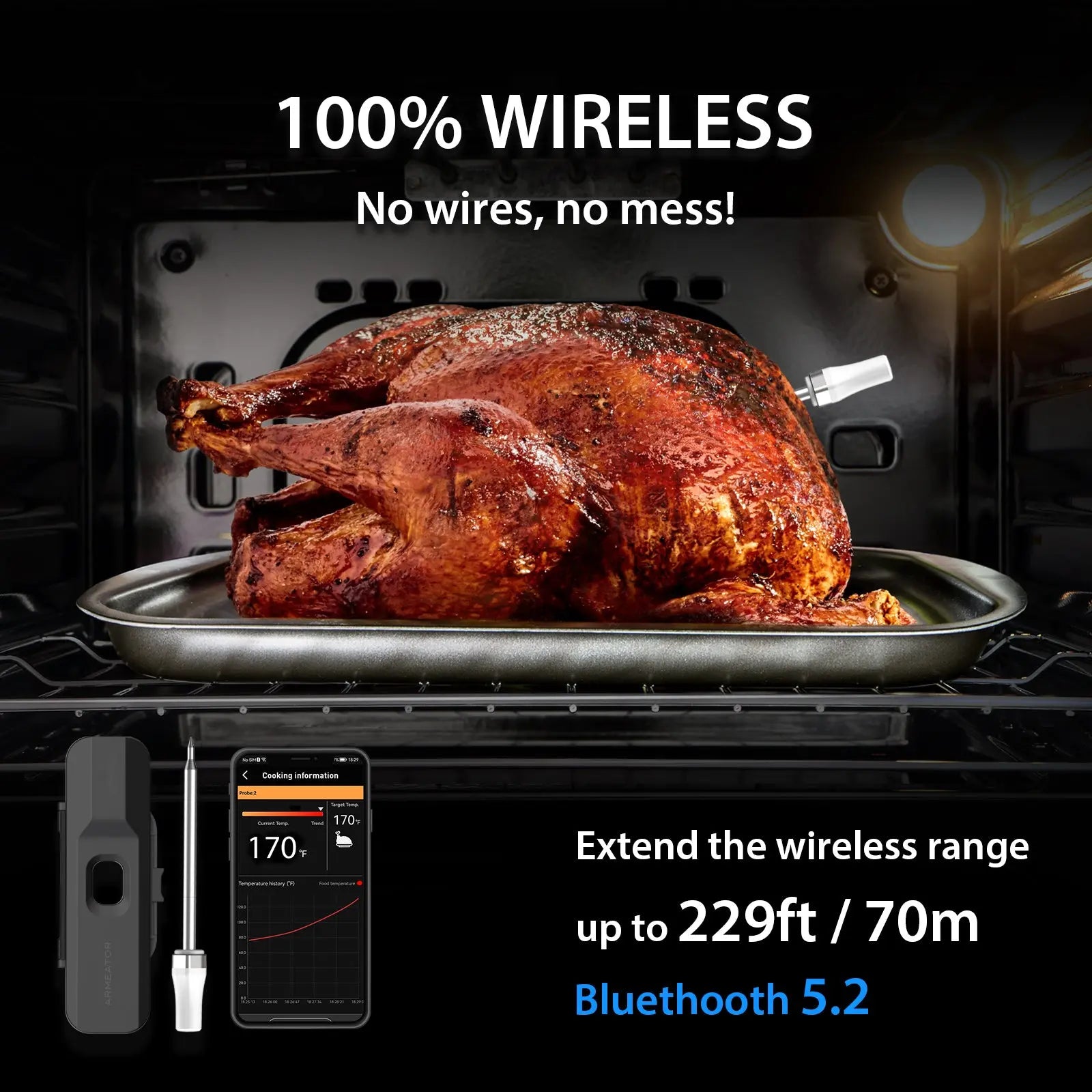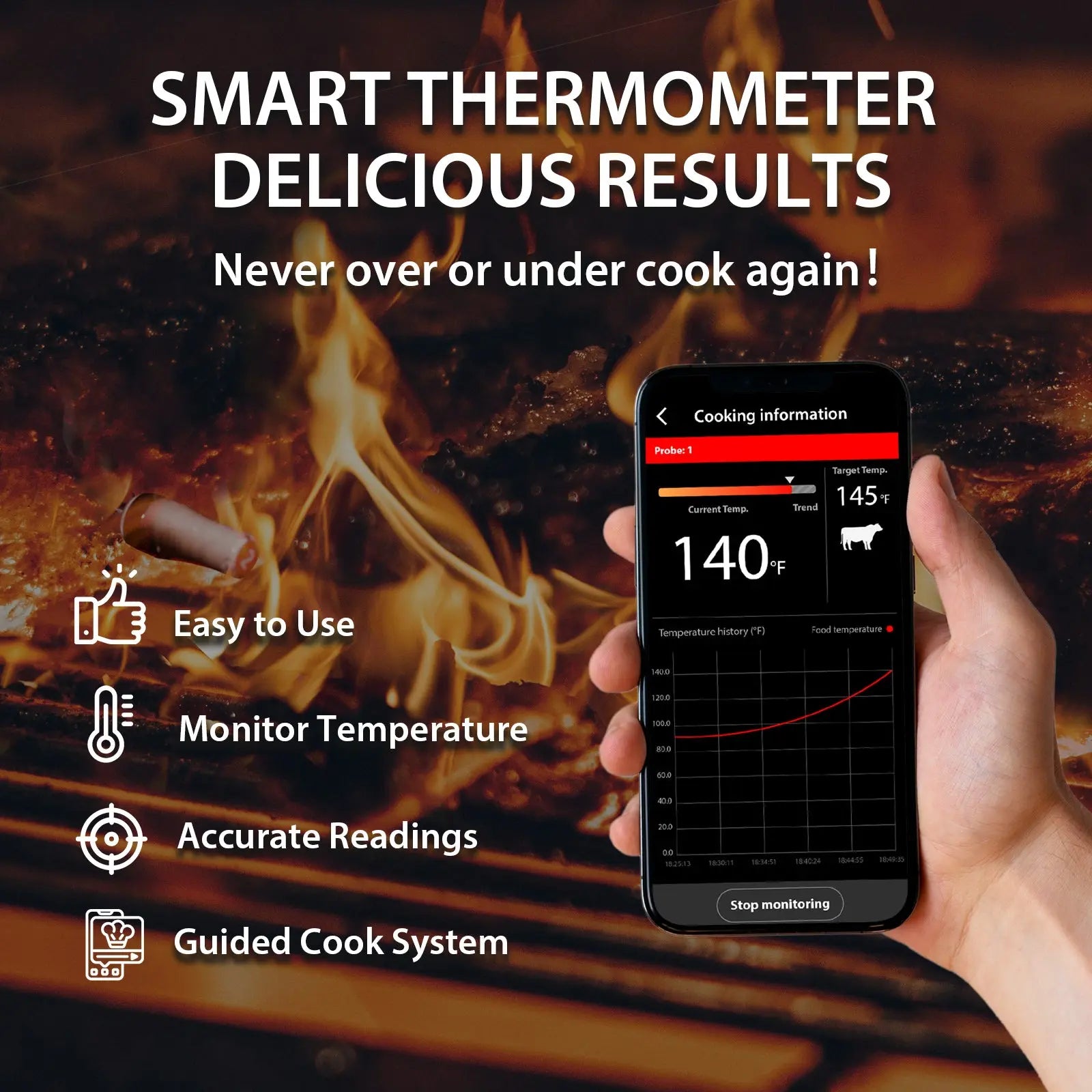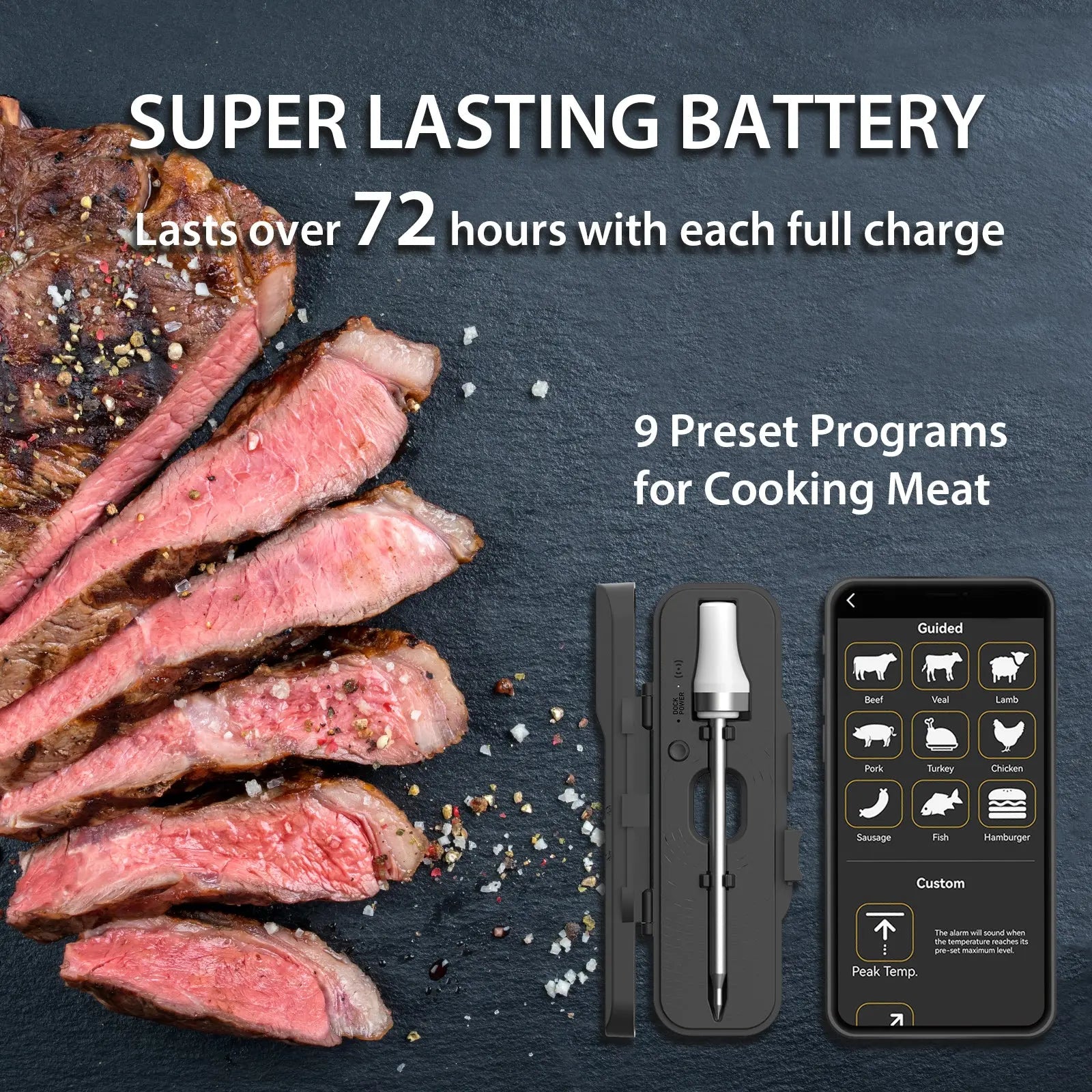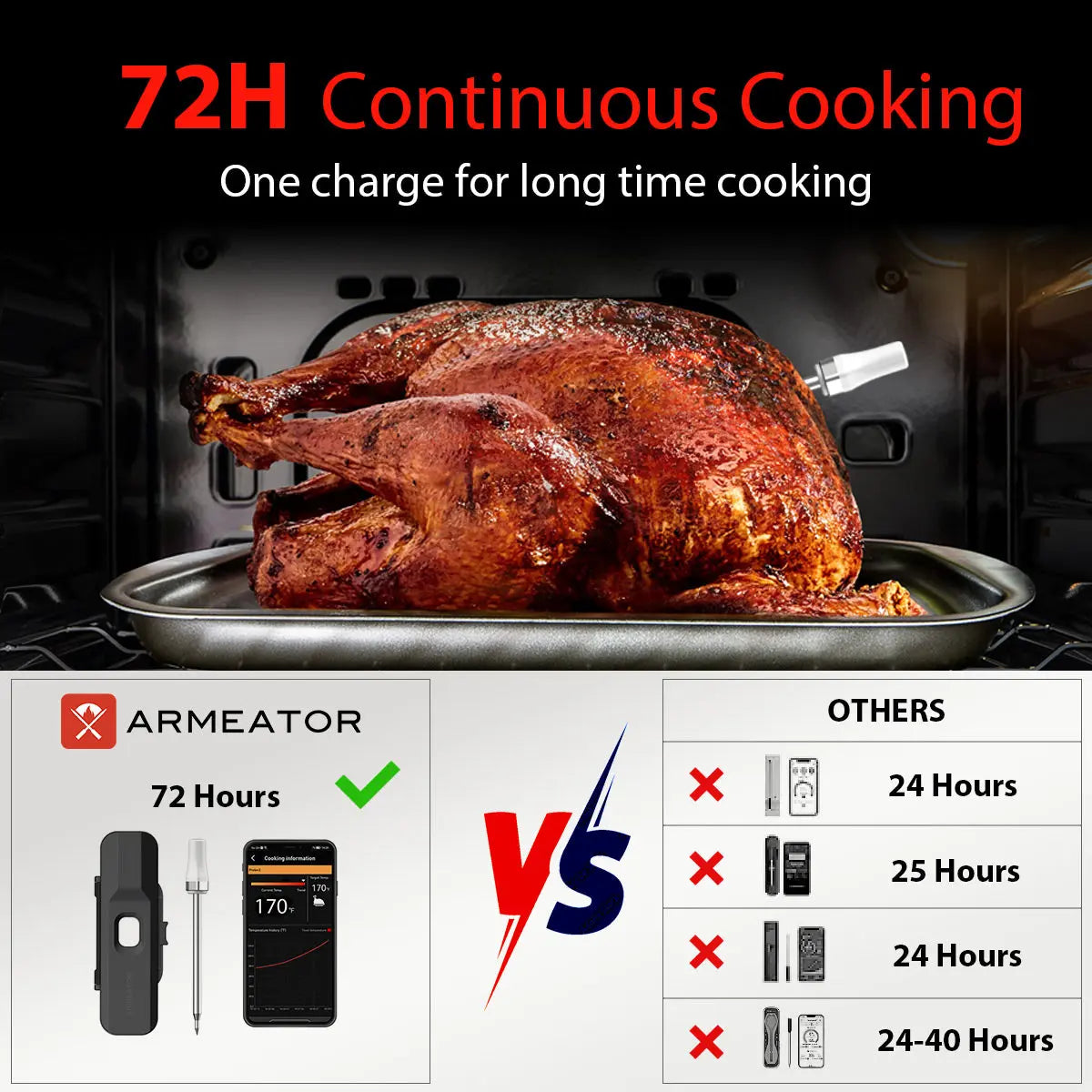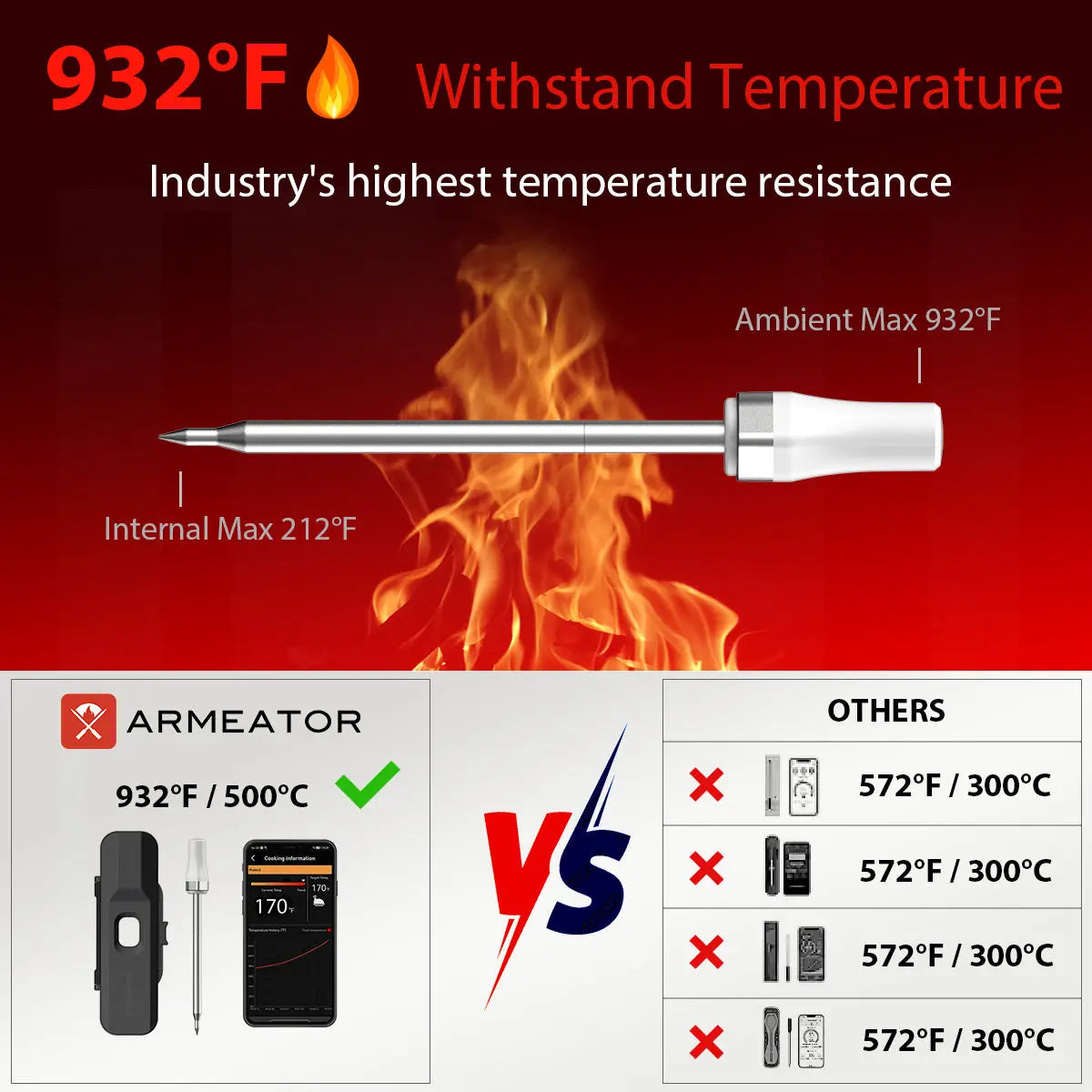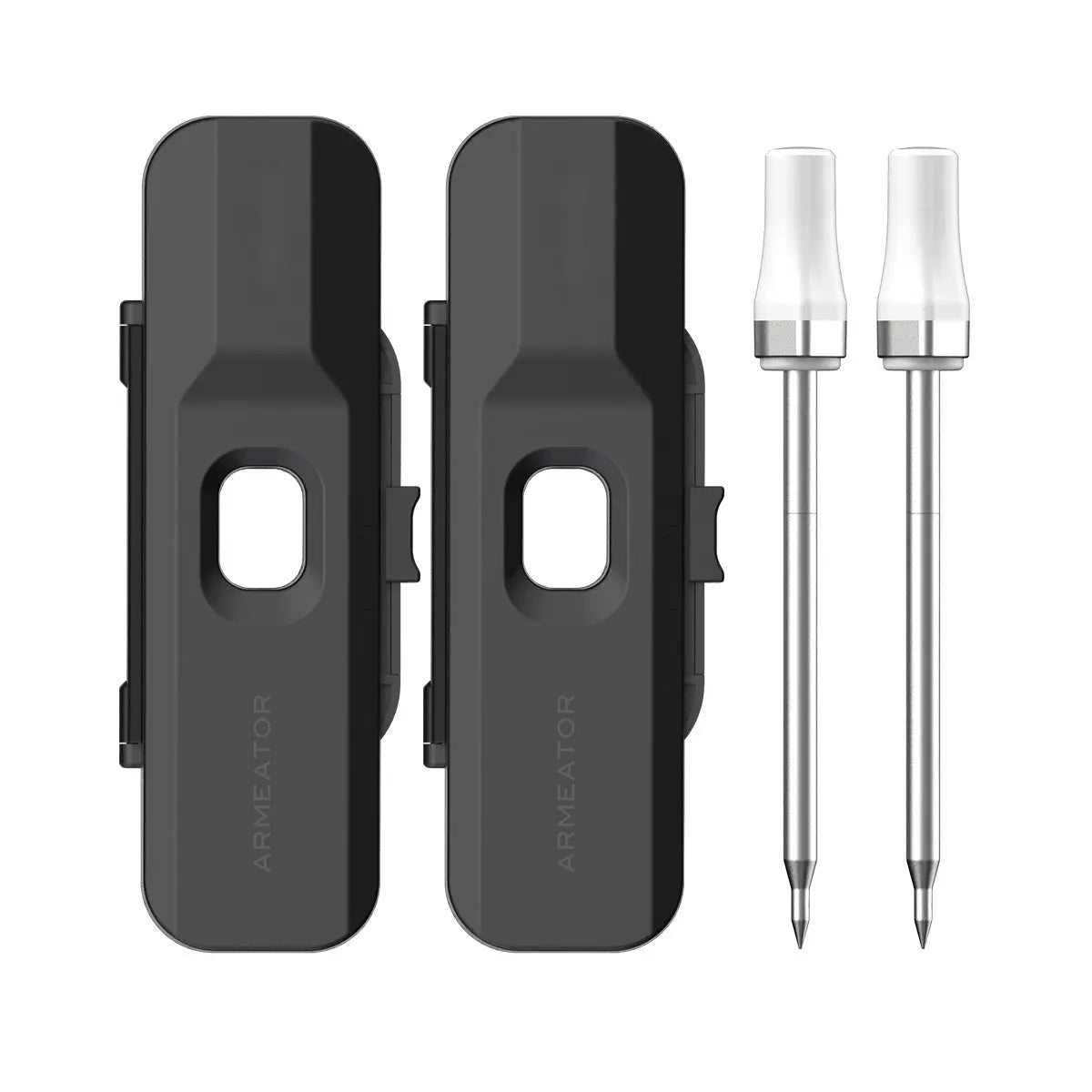 ARMEATOR ONE Wireless Smart Meat Thermometer Duo Bundle
Sale price
$104.90
Regular price
$159.80
The patented built-in sensor design makes the signal connection more stable.
The probe lasts over 72 hours with each full charge, perfect for extended grilling sessions.
Withstands extreme ambient temperatures up to 932°F/500°C and can work with variety of cookware.
Wireless Range up to 229ft/70m (Dock to Phone)
Ultra-fine 0.22in/5.5mm diameter probe makes it easy to insert and remove from meat.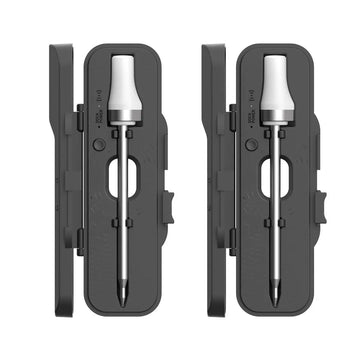 ARMEATOR ONE Wireless Smart Meat Thermometer Duo Bundle
Sale price
$104.90
Regular price
$159.80
Resistant Ambient Temperature up to 572°F(300℃).
Wireless Meat Thermometer Review
Cook Every Meal Like a Pro
A reliable tool makes precision cooking easier than ever.
Elevate Your Culinary Adventures
ARMEATOR ONE utilizes cutting-edge Bluetooth 5.2 technology, providing a completely wire-free experience, and is well-suited for a wide range of cooking methods.
Oven, Pan, Range, or Sous Vide
For baking, roasting and slow cooks
Perfect for cast iron skillets
Smoker, Grill, Kamado, or Rotisserie
Long lasting for overnight smokes
Kettle, ceramic and gas grill ready
Truly wireless for the rotisserie
Smart App Cooking Guidance
The ARMEATOR app provides real-time temperature monitoring on your smartphone. Receive alerts when your meat reaches the perfect temperature, ensuring you serve the best possible dishes every time.
Real-time Temperature display
Perfect meals for satisfied stomachs
MORE TIME WITH YOUR LOVED ONES
Less Time watching over cooking
RESTAUTRANT QUALITY MEALS
Cook chef-inspired meals without paying premium prices
PERFECT FOR ALL CUTS OF MEAT
Steaks, burgers, poultry, pork, and more
1. Armeator One ambient temperature not working?
The top of the ceramic handle of the ARMEATOR ONE probe can withstand a maximum temperature of 932 ℉ or (500℃), but it does not support real-time temperature display in the APP.
2. What is the maximum temperature the ARMEATOR ONE can withstand?
The ARMEATOR ONE has a max ambient temperature range of 932 ℉ or (500℃). The ARMEATOR ONE can withstand 932℉ or (500 ℃). This does not mean the ARMEATOR ONE will become damaged above this temperature but there is a higher chance that ARMEATOR A1 could be damaged if the ambient temperature goes above 932℉ or (500 ℃).
3. How long does the ARMEATOR ONE battery last?
ARMEATOR ONE: If fully charged, the probe can last 72 hours continuously cooking. If you don't use the product, and the dock battery lasts over 90 days. Probe charging time: 15 minutes, the probe will automatically charge when it is placed back into the dock. The Dock AAA battery lasts about 3 months.
4.How many ARMEATOR probes can be paired to my phone?
You can have up to 7 ARMEATOR Probes paired to your phone. You cannot have the same probe paired to multiple phones.
5. Why does the app indicate that the probe is disconnected during cooking?
This may occur for two primary reasons:
1.The probe or dock may have a low battery, leading to a weak signal. Please monitor the probe and dock's power status through the app or dock screen and recharge them when the battery is low.
2.The distance between the dock and the probe exceeds the maximum range, or there is significant interference between the dock and the probe, such as a wall. All-metal sealed stoves can disrupt the Bluetooth signal and weaken it.
If this situation arises, there's no need to panic. The probe's temperature monitoring will continue to function. Simply ensure that the dock is positioned close to the probe, and it will automatically reconnect once the Bluetooth signal is restored.

If you're not happy with your ARMEATOR within 30 days, we will refund your money.
All ARMEATOR products are backed by a one year warranty.
Free shipping for all orders over $50 , and normally we will send your order on the next working day
Questions? Our Customer Happiness Team would be delighted to help
Just got it. Thank you!
The order arrived in good condition. Thank you.
It works great when I'm smoking meat. But the APP cannot display some data I want to know
The first time I used it was to smoke brined turkey breasts and the results were downright impressive!
The only thing that disappoints me is that it occasionally disconnects.
I love its fast reading and the fact that it has a magnet, making it easy to find on the refrigerator!